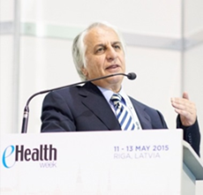 Professor of Computational Intelligence at the Department of Computer Science, University of Cyprus. He was born in Cyprus and studied at QMC, University of London, UK, B.Sc. (Eng). Graduate studies (MBA) at the University of Indianapolis, USA, and at QMC, University of London, UK, PhD (System Theory) in 1981. He received the William Lincoln Shelley award from the University of London for excellence in research, and a Fulbright fellowship for collaborative research in the USA.
He served as Postdoctoral Fellow at the University of London, and Professor of Computer Information Systems at the University of Indianapolis, USA. Since 1991 he has been with the Department of Computer Science at the University of Cyprus and he served as Vice Rector of the University during 2002-2006.
His research interests include eHealth, computational intelligence, medical informatics, diagnostic and prognostic systems, and system modeling & identification of brain activity. He published more than 150 research papers in International Scientific Journals, International Conferences, and Edited Book volumes. He is the Section Editor (eHealth) of the journal Technology and Health Care, served as area editor of the journal IEEE Transactions on Information Technology in Biomedicine, and member of the editorial board of the journal of Intelligent Systems. He is the founder of the Computational Intelligence lab and co-director of the eHealth lab of the University of Cyprus. He is one of the founders of RISE - Research Centre on Interactive Media Smart Systems and Emerging Technologies and member of the Board of Directors of RISE Ltd.
He has taken part in European Commission initiatives for promoting the Information Society, especially the Euro-Mediterranean partnership and the eHealth initiatives. He attends regularly as invited speaker the annual EU Ministerial Forum meeting on eHealth. He is since 2016 the national representative to EU for the SC1 (Health) HORIZON 2020 Program Committee Expert.
In August 2015 he has been appointed as personal advisor to the Cyprus Minister of Health on all eHealth matters, especially in proposing the road map for implementing the National Health System and monitoring its steps. In April 2016 he has been appointed by the President of the Republic of Cyprus as Presidential Counselor for eHealth and matters related to the National Health System (ΓεΣΥ) reform. In October 2019 has been appointed by the Council of Ministers as Executive Chairman of the newly established National eHealth Authority dictated by the eHealth law of Cyprus.